Dr. Michelle Brannick ND, DC is a licensed Naturopathic and Chiropractic Physician in Vermont and Illinois respectively. She earned her doctorate degree in Naturopathic Medicine from the highly regarded Bastyr University/Washington, and her degree in Chiropractic Medicine at the National University of Health Science/Illinois. Dr. Brannick also has 20 years experience practicing therapeutic bodywork including myofascial trigger point and deep tissue massage.
TESTIMONIAL:
"Dr. Brannick's goal is your complete recovery and total wellness. The woman is, without question, a master in her field."
– C. M.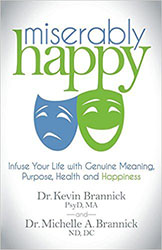 Dr. Brannick's passion for natural medicine is exemplified in the clinic as well as at home. Her two children were safely raised completely naturopathic, free of antibiotics or other pharmaceutical drugs. She is dedicated to applying the same medicinal principles to her patients, working with them to restore the body's balance and natural ability to heal. A vigilant practitioner who believes in continuing education, Dr. Brannick stays abreast of recent developments in all aspects of natural medicine. She frequently hosts student interns and enjoys teaching clinical therapeutics.
Dr. Brannick is also a professional public speaker on health and nutrition, author of a monthly newsletter on current health topics, and co-author of the recently published book, Miserably Happy – Infuse Your Life with Genuine Meaning, Purpose, Health and Happiness.
TESTIMONIAL:
"Thanks to Dr. Brannick, in less than a year I was no longer diabetic, I lost 40 pounds, and my liver and migraine condition had greatly improved."
– B. S.
Formal Education
9/02 – 12/03 National University of Health Sciences, Lombard, IL
Entered with advanced standing status.
Chiropractic Physician
Passes State Board Exams 2003
Licensed 2004
9/97 – 8/02 Bastyr University, Kenmore, WA
Naturopathic Physician
Naturopathic medicine program including 2 years of clinical education as a primary care physician.
Passed National Board Exams 8/2002 and 8/1999
Licensed (VT) in 2002
2/90 – 10/91 Baltimore School of Massage, Baltimore, MD
500 Hour Massage Therapy Program
Nationally Certified 1999
9/81 – 5/86 University of Wisconsin- LaCrosse, LaCrosse, WI
Bachelor of Science Degree
Major in Mathematics/Statistics, minor in Physics
Professional Affiliations
Board member, Illinois Association of Naturopathic Physicians
Board member, LaGrange YMCA
Illinois Chiropractic Society (ILChiro.org) 2005
American Association of Naturopathic Physicians (AANP)2000