Introduction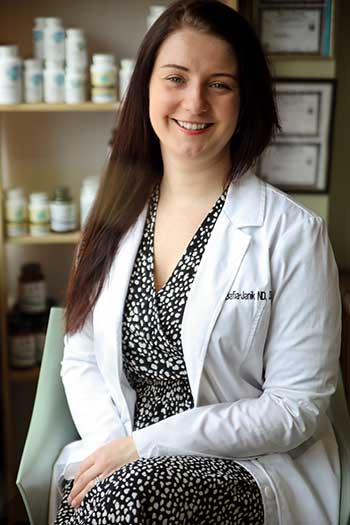 I am a board certified naturopathic and chiropractic primary care physician, treating patients of all age groups. I have also completed 100 hours of training in acupuncture. I believe in the power of the body to heal itself if it is given the correct environment to do so. The body is able to heal when the cause of the condition is addressed, instead of suppressing symptoms. One primary role of being a doctor is serving as a teacher. Educating my patients about ways to achieve optimal health is essential to the process of healing. I provide patients with the proper education/tools, but in the end, it is up to each patient to make the appropriate lifestyle changes. Working together, as a team, is an integral part of the journey. I enjoy spending anywhere from 30-90 minutes with each patient, listening, answering questions, educating, and providing each patient with an individualized treatment plan.
Specialty/Focus
The mind, body, and spirit are all connected. By utilizing principles from naturopathic medicine, chiropractic, and acupuncture, I am able to ensure that all 3 are addressed. My clinical expertise is in nutrition, women's health, gastrointestinal conditions, and musculoskeletal ailments. I particularly enjoy working with kids and adolescents because childhood is the ideal time to teach children lifelong practices to optimize health.
Personal Background
I was born in Poland and moved to the United States when I was 5 years old. Since then, I have resided in Illinois. I am fluent in both English and Polish. My interest in naturopathic medicine and chiropractic medicine began several years ago, when I first came to see Dr. Brannick as a patient. I was originally going to school for pharmacy and then decided to change paths toward naturopathic medicine and chiropractic. I obtained my bachelor's degree from The University of Illinois, at Chicago, in Kinesiology. I then went to graduate school at The National University of Health Sciences and graduated with a Doctorate degree in Naturopathic Medicine and Chiropractic. During my naturopathic medicine clinical rotation, I served as an intern at the Salvation Army Rehabilitation Center in Chicago, Illinois, providing care to an underserved community, with a variety of health challenges, such as nutritional deficiencies, substance abuse, and men's health concerns. I also completed additional training in the Webster Technique via the International Chiropractic Pediatric Association (ICPA). Since graduating, I have been working for the Brannick Clinic of Natural Medicine, coming full circle to where my love for naturopathic medicine and chiropractic first started. In my free time, I enjoy spending time with family/friends, being out in nature, traveling, and getting some much-needed vitamin R.
Training & Credentials
• Doctor of Chiropractic: National University of Health Sciences
• Doctor of Naturopathic Medicine: National University of Health Sciences
• Bachelor of Science in Kinesiology: University of Illinois at Chicago
• 100-Hour Acupuncture Certification
See Me For
Conditions: Acute illnesses, cardiovascular conditions, respiratory issues, gastrointestinal disorders, genitourinary problems, women's health complaints, hormonal imbalances, autoimmune disorders, skin ailments, musculoskeletal/arthritic conditions, and mental/emotional complaints. -Modalities: dietary/lifestyle modification, nutritional supplementation, botanical medicine, lab testing, gynecological exams, homeopathy, escharotic treatment, therapeutic exercises, spinal manipulation, manual therapy, cupping, flexion/distraction, cold laser, and acupuncture. I look forward to meeting you and helping you start/continue your journey toward optimal health and wellness.
Locations I Will See Patients
• Lagrange Park
• Chicago