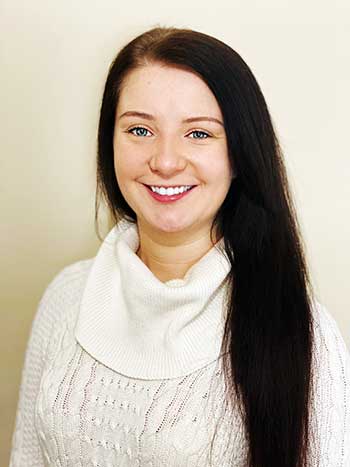 Dr. Kamila Bafia-Janik is a board certified naturopathic and chiropractic physician. She serves as a primary care physician, treating patients from all age groups. She is fluent in both English and Polish. Dr. Bafia-Janik's clinical expertise is in nutrition, women's health, gastrointestinal conditions, and musculoskeletal ailments.
Dr. Bafia-Janik graduated from National University of Health Sciences with a Doctorate in Naturopathic Medicine and Chiropractic. During her naturopathic medicine clinical rotation, she served as an intern at the Salvation Army Rehabilitation Center in Chicago, Illinois, providing care to an underserved community, with a variety of health challenges, such as nutritional deficiencies, substance abuse, and men's health concerns. Dr. Bafia-Janik also completed additional training in the Webster Technique via the International Chiropractic Pediatric Association (ICPA). She obtained her Bachelor of Science degree in Kinesiology from the University of Illinois, in Chicago.
By determining the root cause of a condition, serving as a teacher, creating the conditions for health, and constructing individualized treatment plans, Dr. Bafia-Janik treats an array of conditions, such as acute illnesses, cardiovascular conditions, respiratory issues, gastrointestinal disorders, genitourinary problems, women's health complaints, hormonal imbalances, autoimmune disorders, skin ailments, musculoskeletal/arthritic conditions, and mental/emotional complaints. She has several natural and chiropractic therapies in her toolbox, including dietary/lifestyle modification, nutritional supplementation, botanical medicine, lab testing, homeopathy, therapeutic exercises, spinal manipulation, manual therapy, cupping, flexion/distraction, and cold laser.
In her free time, she enjoys spending time with family/friends, being out in nature, traveling, and getting some much-needed vitamin R (rest).
Dr. Bafia-Janik is excited to meet you and help you start/continue your journey toward optimal health and wellness.
Formal Education
August 2016-December 2021: National University of Health Sciences, Lombard, IL
Doctor of Chiropractic
August 2016-December 2020: National University of Health Sciences, Lombard, IL
Doctor of Naturopathic Medicine
August 2012-May 2016: University of Illinois, Chicago, IL
Bachelor of Science in Kinesiology
Professional Affiliations
American Association of Naturopathic Physicians
American Chiropractic Association