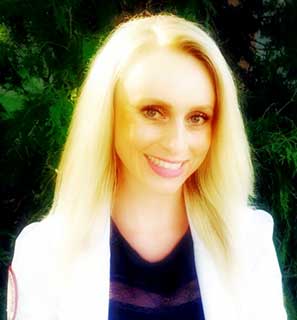 The Brannick Clinic of Natural Medicine is always looking for talented, passionate, healthcare providers. It's been 10-years since I was introduced to Dr. Julia Malkowski, ND, DC, (candidate 2017). She brought her baby to see me and wanted to avoid the typical medical insults children experience. She also sought support to raise a healthy child. I have now seen both of her children flourish, while Julia embraced everything naturopathic medicine has to offer. She was so convinced of its healing philosophy that she decided to become a naturopathic physician herself. Throughout her education Dr. Malkowski has gained experience by shadowing me in the clinics at every opportunity. I am proud to introduce Dr. Julia Malkowski as a new team member—she is available at both the LaGrange Park and St Charles clinics.
Julia's Bio
Dr. Malkowski successfully completed an internship at the Primary Care Integrative Medicine Clinic at National University of Health Sciences. Dr. Malkowski's internship focused on drug-free and surgery-free approaches to improving health. During this time, Dr. Malkowski completed the Motion Palpation Institute's Full-Spine Analysis & Adjustive Technique seminar and attended the Biomedical Treatment for Autism Spectrum Disorders seminar. Dr. Malkowski is currently completing her Doctorate in naturopathic medicine and has received advanced standing in the program.
Dr. Malkowski credits her children's excellent health to naturopathic medicine. She began pursuing naturopathic and chiropractic medicine as a career after observing its excellent results. Dr. Malkowski remains committed to optimal health on a personal and professional level. She aims to help others thrive and get the most out of life.
Besides providing primary care naturopathic medicine to her patients, Dr. Malkowski also specializes in rehabilitation for back injuries and surgeries, including cesarean sections and birthing recovery. She feels birthing recovery is not being treated, which results in unnecessary pain and complications—especially with additional pregnancies.
Come and meet this passionate, energetic, intelligent physician. Dr. Malkowski will be holding several lectures in the upcoming months, so stay tuned for topics and locations.