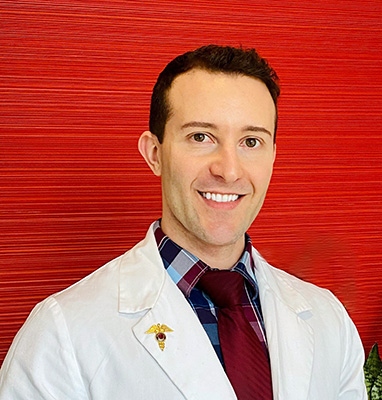 Dr. Joel Kiselka is a naturopathic and chiropractic physician in Hawaii and Illinois, respectively, where he serves as a primary care physician with a clinical focus in nutrition, aesthetics, musculoskeletal conditions, and men's health. He provides his patients with high-impact, natural medicine solutions for stronger and healthier living.
Dr. Kiselka graduated valedictorian and magna cum laude with his Doctor of Naturopathic Medicine degree and cum laude with his Doctor of Chiropractic degree and certification in acupuncture from National University of Health Sciences. While attending NUHS, he served as Chief Intern and created outreach programs to care for the needs of local veterans. He received his Bachelor of Science in biology degree from Loyola University Chicago.
As an expert in men's health, Dr. Kiselka provides proven lifestyle tactics to optimize function and address men's health concerns, naturally. His passion for performance optimization, fitness, and nutrition are the foundation of his treatment protocols. Men have unique physical, mental, and social health determinants for which Dr. Kiselka will tailor an individualized protocol to promote vitality and restore health.
Dr. Kiselka successfully targets the root cause of male and female metabolic and reproductive hormone dysregulation, exercise training and recovery, non-surgical neck and back pain, musculoskeletal injuries, stress disorders, cardiovascular conditions, gastrointestinal issues, genitourinary problems, erectile and prostate dysfunction. He is experienced in natural therapies including behavioral and dietary modification, lab testing, nutritional supplementation, mindfulness, therapeutic exercise, kinesiology taping, spinal manipulation, manual therapy, cold laser, acupuncture, aesthetic facial acupuncture, botanical medicine, and homeopathy.
Dr. Kiselka is an active figure in the naturopathic and chiropractic medicine professions where he currently serves on the Board of Directors of the Illinois Association of Naturopathic Physicians. He is a well-regarded motivational speaker and enjoys helping others create a values-based vision and goal system for complete wellness.
In his free time, you will find him cooking, strength training, practicing yoga, traveling, and volunteering at area VA Hospitals.
Formal Education
January 2016 – April 2019: National University of Health Sciences, Lombard, IL
Doctor of Naturopathic Medicine- Valedictorian, summa cum laude
January 2016- August 2020: National University of Health Sciences, Lombard, IL
Doctor of Chiropractic Medicine- cum laude
August 2011–December 2015: Loyola University, Chicago, IL
Bachelor of Science in Biology
Certification
September 2019– January 2020
Acupuncture 100-hour Certification, National University of Health Sciences, Lombard, IL
Mei Zen Cosmetic Acupuncture
Post Graduate Education and Training
August 2019
Naturopathic Oncology Preceptorship, Goshen Center for Cancer Care, Goshen, IN
Professional Affiliations
Illinois Association of Naturopathic Physicians- Board of Directors
Oncology Association of Naturopathic Physicians
American Association of Naturopathic Physicians
American Chiropractic Association