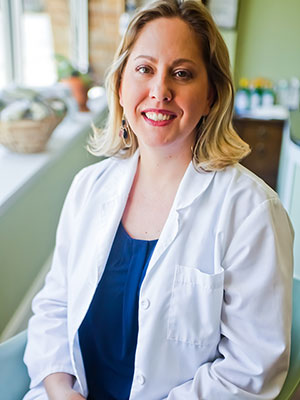 Dr. Jodi Perrin, is a long time resident of Aurora, Illinois, graduating summa cum laude from National University of Health Science in 2014 with her Doctor of Naturopath Medicine degree. Prior to pursuing her interest in natural medicine, Dr. Perrin graduated in 2004 from Palmer College of Chiropractic in Davenport, IA, spending the next seven years delivering chiropractic care in Michigan and Illinois. Having passed her Naturopathic board exams early in 2015, Dr. Perrin will soon obtain her Naturopathic Medicine license from the state of Minnesota. Dr. Perrin is also certified in Acupuncture along with an additional 100 hours of specialized training in Maternal Health and Pediatrics.
Dr. Perrin strongly believes that true wellness comes from within and that by combining the benefits of chiropractic, acupuncture, and natural medicine she is able to assist patients' on their journey of achieving optimal health and wellness. She has experience working with patients as young as 6 weeks old to 90 plus years old.
During her free time, Dr. Perrin loves to spend time with her family and her fur kids (a Sheltie dog and two cats). She enjoys gardening and crafts of any kind, especially scrapbooking and knitting. Dr. Perrin also loves to travel and has had the privilege of traveling many places including the Bahamas through the Chicago Shedd Aquarium, and India where she participated in an outreach clinic through Palmer Clinic Abroad.
Formal Education
January 2012–August 2014: National University of Health Science, Lombard, IL
Doctor of Naturopathic Medicine, salutatorian, summa cum laude.
August 2001–June 2004: Palmer College of Chiropractic, Davenport, IA
Doctor of Chiropractic, magna cum laude.
August 1999–May 2000: Aurora University, Aurora, IL
Bachelor of Science, Health Science.
August 1998–May 1999: Northern Illinois University, Dekalb, IL
August 1996–May 1998: Waubonsee Community College, Sugar Grove, IL
Associate of Science.

Certification
September 2013–March 2014: Acupuncture 1st 100 Hours Certification.
Joseph Carter, DC, DiplAc, Lac; Katie Gregory, DC, MSAc, DilAc, Lac; Jon Sunderlage, DC, DiplAc, Lac. National University of Health Science.

Post Graduate Education and Training
February 2013–March 2014: Pediatrics & Maternal Health 100 Hour Course Series.
Jennifer Ma, DC, ND, MS; David Miller, MD, FAAP, Lac; Kristine Tohtz, DC, DABCA, CACCP; Sandi Tenfelde, PhD, RN, WHNP; Patricia, Berg-Drazin, IBCLC, CST; Ryan VanMatre, DC, MS. National University of Health Science.
November 2005 – April 2006: Chiropractic Radiology 60 hour Series: 110 Conditions Commonly Seen in Practice.
Jan Martensen, DC. Michigan Chiropractic Association.

Professional Affiliations
2001–Present Sigma Phi Chi Chiropractic Sorority, the Oldest Chiropractic Organization in the World
Treasurer (2007 – Present)
President (2006-2008, 2009 – 2012)
Recording Secretary (2005–2006)
Vice President (2004-2005)

Awards and Distinctions
Sigma Phi Chi Chiropractic Sorority
Dr. Mabel Heath Palmer Sigma Phi Chi Female Chiropractor of the Year (2013)
Dr. Agnes Palmer Alpha Grand Chapter Sigma Phi Chi Service Award (2007-2013)
National University of Health Science
President's Excellence Award (2011)
Palmer College of Chiropractic
President's Scholar(2004)
Palmer Clinic Abroad Program Participant (India, 2003)
Dean's Honor List (2001-2004)
President's List (2001-2004)
Dr. Frank Sartz Recruitment Scholarship (2001)
Dr. Frank E. and Dorothy Bemis Memorial Scholarship (2001)